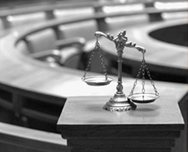 As Kansas and Missouri Divorce Law Attorneys, we handle every aspect of divorce and family law throughout the Kansas City area. Rick Carney will personally address the many issues that must be resolved by a settlement agreement or court order.
We can handle high value divorces and the many complexities of Kansas and Missouri marital property division, child support, spousal support, parenting time, and much more. We also tackle problems that can possibly arise after a divorce has been finalized. Matters can include but not limited to child support arrears, modifications to family court orders, and parental relocations.
Our other family law areas include paternity, assistance with situations involving domestic violence, and prenuptial agreements. Attorney Rick Carney is well respected and highly sought after. In divorce and whenever family disputes arise we vigorously protect our clients' rights in court when alternative methods have been exhausted.
Whether your case requires persistent negotiation or assertive representation at trial, Rick Carney has the legal expertise and many years of courtroom experience to protect you and your interests.
Criminal Law
If you're concerned about an arrest or an on-going investigation, then you may want to speak with an attorney about your situation. Allegations of a crime shouldn't be taken lightly, and The Law Office of Rick Carney works hard to try to defend the rights of every client our firm works with. We take a particular interest in the issues faced by clients accused of driving while under the influence of alcohol or narcotics, murder/assault, theft or credit card fraud.
Our firm provides flexible options for setting up appointments, so you can readily work around scheduling issues. Our clients consult with our practice because we offer:
· After hours availability by phone
· Personal attention for each case
· Access to a Spanish-speaking attorney
The Law Offices of Rick Carney also offers counsel for individuals who are facing claims of federal crimes. Our Missouri and Kansas criminal law practice may be able to review your case and provide you a list of legal remedies that are worth considering. Call us right away, and our office staff will set up a consultation.
Personal Injury
Rick Carney Law effectively and efficiently represents clients who have been injured due to the negligence of another. As Kansas and Missouri automobile accident lawyers we understand that most people would rather not be put in the position of having to take legal action, even when wronged by others. Finding yourself in such a position can lead to many questions and concerns about what the future may hold. An insurance adjuster or the other party's attorney may have already contacted you. While your situation may seem overwhelming, remember, you do not have to go through this alone.
The Law Office of Rick Carney is devoted to serving injury victims and helping veterans receive the benefits they are owed by law. We understand the long-term consequences your injuries may bring about and have the resources to ensure that the true impact is demonstrated to the defense and ultimately, if necessary, to a jury if your case goes to court.
Our firm has earned its reputation in the following areas:
· Auto Accidents (including trucking related)
· Wrongful Death
· Slip and Fall