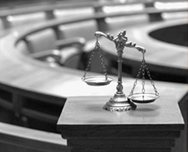 With over 29 years of legal experience in the areas of criminal, civil, divorce and real estate law, Mr. Carney brings a lifetime of learning to bear on every case he handles. With tactics and wisdom gleaned from his time on both the prosecutorial and defense sides of the aisle, Rick brings an understanding of the workings and processes of the prosecutor's point of view.
University of Kansas, Louisiana State University Law Center
Undergraduate degree from the University of Kansas, followed by Juris Doctorate  From The Louisiana State University Law Center. 
Multi-State Licensed
Licensed to practice in the States of Kansas, Missouri and Louisiana.
Practiced in all Municipal, State and Federal Courts
With over over 120 jury trials to his credit, Mr. Carney is one of the most experienced trial lawyers in the metro.
Meet Rick Carney:
 Son of a career military father; Rick traveled and lived in Germany, Puerto Rico  and Italy, actually graduating from Livorno American High School, His exposure to various cultures has been a factor in his practice of law; allowg him to think outside the box.
Our Philosophy:
Every case is treated with the utmost importance; no matter the size or nature of the matter. Every client receives the benefit of years of our experience and the most professional service at all times. Criminal or civil, divorce, real estate or personal injury, Mr. Carney researches every aspect of the case and is a tenacious advocate in every instance. If is is important to you … it is important at Rick Carney Law.
Client Testimonial:
I felt that my case was overwhelming me, even though several attorneys had passed over my case as being too small. Mr. 
Carney
's take charge attitude calmed all my fears and we went on to win the case
.